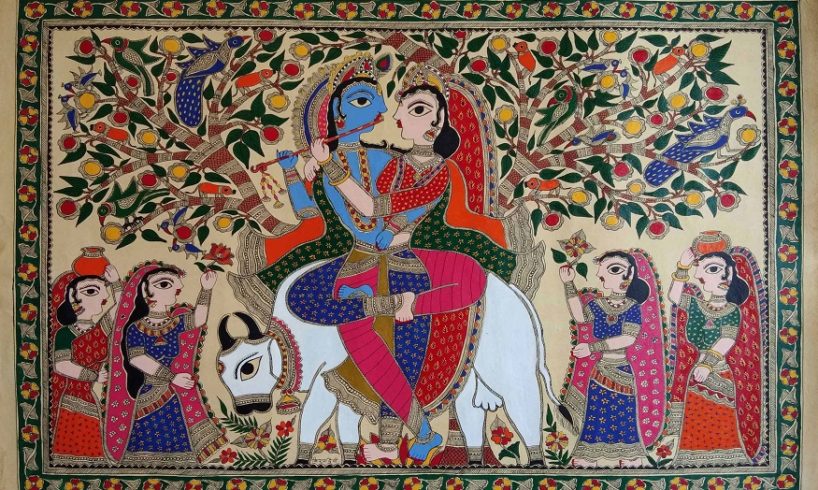 India's artistic legacy is one we should be immensely proud of. From the famous paintings of Rajasthan to Madhubani art, our country has a diverse range of art forms. While some originated as wall art, others found their humble beginnings as elements of decoration on temple walls. With a host of vibrant origin stories, Indian folk art forms leave an indelible imprint on our hearts and minds. Hence, there is no better way to travel the country right now than through different art forms.
Here are some of the most popular and beauteous art forms from India:
1.Rajasthani Indian Art
Classical Indian art is divided into four schools of art—Pahari, Rajasthani, Mughal and Deccani. Amongst them Rajasthani Indian Art is perhaps the most well known genre with its ornate features and vibrant hues. Famous paintings of Rajasthan are often referred to as the Rajput style of painting as they flourished in the royal courts and households of Rajputana in the 17th and 18th century. As compared to their Mughal counterparts, these paintings had relatively fuller canvases with little or no empty spaces. Famous paintings of Rajasthan are usually created with bright hues like yellow, red, blue, brown, white, with a touch of gold and silver for an opulent look.
2. Pichwai Art
Pichwai art is dedicated to revering and adoring Shrinathji. Hence, one of the most well known forms of a Pichwai painting shows the deity of Srinathji being worshipped or scenes from his life. The word 'Pichwai' comes from 'pich' (back) and 'wai' (textile wall hanging), referring to the traditional use of a Pichwai painting as a wall hanging behind the deities at Nathdwara temple. One of the most unique features of Pichwai art is the depiction of Chowbees Swaroop, i.e., Krishna's 24 divine avatars. These were generally found on the border of a Pichwai painting but nowadays they are being transformed into individual artworks.
3. Pattachitra art
The next stop on this artistic odyssey is a small heritage village in Orissa called Raghurajpur which is well known for Pattachitra art. A Pattachitra painting was traditionally used to replace the idols in Jagannath temple. However, today Pattachitra art has gone beyond the confines of temple walls and entered homes and offices. Pattachitra art can be segregated into Bengali Pattachitra and Odisha Pattachitra. An Odisha Patachitra painting is mostly used to replace the deities at Jagannath temple while a Bengali Patachitra painting has performative origins.
4. Madhubani art
Madhubani art, also known as Mithila art, is a 2500-year-old art form. Though it originated as a form of wall art, it has now found a wider audience through its presence on sarees, coasters, etc. Madhubani art has an innate ability to grab your attention with its unique patterns and motifs. Apart from walls, a Madhubani painting was traditionally made on handmade paper created with multanimitti, neem juice and cow dung. There are 5 main styles of creating a Madhubani painting—Bharni, Kachni, Godhana, Tantric and Kohbar.
5. Kalighat art
As mentioned previously, Pattachitra art is divided into two streams—Odisha and Bengali Pattachitra. Kalighat painting evolved from the latter form. The genre of Kalighat art is known to have been born in the Kalighat area of Bengal. It was a hit amongst British tourists and officers visiting India on official duty and looking for souvenirs. Painted on mill-made paper, a Kalighat painting is a condensed form of a Pattachitra painting, since it focuses on just one or two figurines—mostly gods and goddesses from Hindu mythology.